March 7th, 2014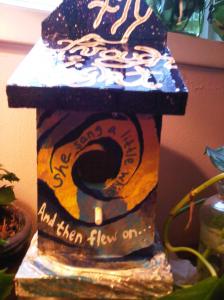 The amount of response for my line of custom made Grateful Dead Birdhouses has been staggering. I got started on it at the end of the Summer in 2011 so only a few were made to test the waters. Then, there didnt seem to be too many interested in birdhouses once the weather turned cold. But come Spring of 2012, interest picked back up, and all I needed to do was start DOIN em! At any given moment, I seem to be 5 or 6 houses behind on my commissioned list. Its been nice to feel a little in demand.
So now that the collection has grown, I found it was time to make a list for people to gander that consists of songs still available, and also the ones that have been already done. The song names on this list are every single song that the Grateful Dead has recorded and/or covered live. The song titles that begin with a capitol "X"have either been painted or have been reserved with a deposit.
To reserve your title simply go through the list and look for your special song. If you find its been taken, find another. I put a lot of time and heart into these and will be sure to create something special and unique just for you.
The list is in alphabetical order. To contact me about commissioning a birdhouse of your own, either email me at ArtYouGlad@yahoo.com , or contact me on facebook through my art page at www.facebook.com/KevinJCooperArtwork .

(Baby) Hully Gully
(For The) Children Of The Eighties
(I Can't Get No) Satisfaction
X-(I'm A) Road Runner
A Voice From On High
Ain't It Crazy (The Rub)
Alabama Getaway
Alice D Millionaire
All Along the Watchtower
All I Have To Do Is Dream
All Of My Love
Alligator
Althea
And We Bid You Goodnight
Are You Lonely For Me
Around and Around
X-Attics of my Life
Baba O'Riley
Baby What You Want Me To Do
Bad Moon Rising
Ballad of a Thin Man
Ballad Of Casey Jones
Banana Boat Song (Day-O)
Banks Of The Ohio
Barbara Allen
Beat It On Down The Line
Believe It Or Not
Bertha
Betty And Dupree
Big Boss Man
Big Boy Pete
Big Breasa
Big Railroad Blues
Big River
X-Bird Song
X-Black Muddy River
Black Peter
Black Queen
Black Throated Wind
Blackbird
X-Blow Away
Blue Moon
Blues for Allah
Born Cross-Eyed
Born On The Bayou
X-Box Of Rain
Bring Me My Shotgun
Brokedown Palace
X-Broken Arrow
X-Brown-Eyed Women
Built To Last
Bye Bye Love
C. C. Rider
California Earthquake
Candyman
Can't Come Down
Casey Jones
Cassidy
Cathy's Clown
Caution (Do Not Stop On Tracks)
Caution jam
Checkin' Up
Childhood's End
Chimes Of Freedom
China Cat Jam
X-China Cat Sunflower
Chinatown Shuffle
Chinese Bones
Clementine
Clementine Jam
Close Encounters
Cocaine Habit Blues
Cold Jordan
X-Cold Rain and Snow
Come Back Baby
X-Comes A Time
Corrina
Cosmic Charley
Cowboy Song
X-Crazy Fingers
Cream Puff War
Cryptical Envelopment
Cumberland Blues
Dancin' In The Streets
Dark Hollow
Dark Star
Darling Corey
Day Tripper
Days Between
Dead Man, Dead Man
Deal
Dear Mr. Fantasy
Death Don't Have No Mercy
Death Letter Blues
X-Deep Elem Blues
Desolation Row
Devil With The Blue Dress
X-Dire Wolf
Do You Wanna Dance
Doin' That Rag
Don't Ease Me In
Don't Mess Up A Good Thing
Don't Need Love
Don't Think Twice It's All Right
Down In The Bottom
Down So Long
Drink Up and Go Home
Drums
Dupree's Diamond Blues
Early Morning Rain
Easy Answers
Easy To Love You
Easy Wind
El Paso
Empty Pages
X-Estimated Prophet
Eternity
Every Time You Go Away
Eyes Of The World
Far From Me
Feedback
Feel Like A Stranger
Fever
Fire On The Mountain
Foolish Heart
Forever Young
X-Franklin's Tower
X-Friend Of The Devil
From The Heart Of Me
Games People Play
Gathering Flowers For The Master's Bouquet
Gentlemen, Start Your Engines
Get Back
Gimme Some Lovin'
Gloria
Goin' Down The Road Feeling Bad
Good Golly Miss Molly
Good Lovin'
Good Morning Little Schoolgirl
Goodnight Irene
Got My Mojo Working
Gotta Serve Somebody
Greatest Story Ever Told
Green Green Grass Of Home
Green Onions
Green River
Happiness Is Drumming
Hard To Handle
He Was A Friend of Mine
Heads Up Jam
Heart Of Mine
Heaven Help The Fool
Hell in a Bucket
Help Me Rhonda
Help On The Way
Here Comes Sunshine
He's Gone
Hey Bo Diddley
Hey Jude
Hey Little One
Hey Pocky Way
Hi Heeled Sneakers
Hide Away
X-High Time
Highway 61 Revisited
How Long Blues
How Sweet It Is (To Be Loved by You)
I Ain't Superstitious
I Fought The Law
I Got A Mind To Give Up Livin'
I Just Wanna Make Love To You
I Know It's A Sin
I Know You Rider
I Need A Miracle
I Second That Emotion
I Want To Tell You
I Want You
I Washed My Hands In Muddy Water
I Will Take You Home
If I Had The World To Give
If the Shoe Fits
Iko Iko
I'll Be Your Baby Tonight
I'll Go Crazy
I'm A Hog For You Baby
I'm A King Bee
I'm A Man
X-(I'm A) Road Runner
In the Midnight Hour
In The Pines
It Hurts Me Too
It Must Have Been The Roses
It Takes A Lot to Laugh, It Takes A Train to Cry
It's A Man's, Man's, Man's World
It's All Over Now
It's All Over Now, Baby Blue
It's My Own Fault
I've Been All Around This World
I've Got A Tiger By The Tail
I've Just Seen A Face
Jack A Roe
X-Jack Straw
Jam
Joey
John Brown
Johnny B. Goode
John's Other
X-Just a Little Light
Just Like Tom Thumb Blues
Kansas City
Katie Mae
Keep On Growing
Keep Your Day Job
King Solomon's Marbles
Knockin' on Heaven's Door
La Bamba
Lady Di And I
L'Alhambra
Lazy Lightning
Lazy River Road
Leave Your Love At Home
Let It Be Me
X-Let it Grow
Let It Rock
Let Me In
Let Me Sing Your Blues Away
Let The Good Times Roll
Liberty
X-Little Red Rooster
Little Sadie
Little Star
Long Black Limousine
Look On Yonder's Wall
Looks Like Rain
X-Loose Lucy
X-Loser
Lost Sailor
Louie, Louie
Love The One You're With
Lucifer's Eyes
Lucy in the Sky with Diamonds
Mack The Knife
Maggie's Farm
Mama Tried
Man Of Peace
Man Smart (Woman Smarter)
Mannish Boy (I'm A Man)
Marriott USA
Mason's Children
Matilda, Matilda
Maybe You Know
Me and Bobby McGee
Me and My Uncle
Me and My Uncle Jam
Memphis Blues
X-Mexicali Blues
Might As Well
Milkin' The Turkey
Mind Left Body Jam
Mindbender (Confusion's Prince)
Mission In The Rain
X-Mississippi Half-Step Uptown Toodleloo
Mister Charlie
Mona
Money Money
X-Monkey And The Engineer
Morning Dew
Mountain Jam
Mountains Of The Moon
Mr Tambourine Man
My Babe
My Baby Left Me
My Brother Esau
Mystery Train
Neighborhood Girls
Never Trust A Woman
New Minglewood Blues
New Orleans
New Potato Caboose
New Speedway Boogie
Next Time You See Me
No Left Turn Unstoned (Cardboard Cowboy/The Monster)
Nobody's Fault But Mine
Not Fade Away
Ode For Billie Dean
Oh Babe, It Ain't No Lie
Oh Boy
Okie From Muskogee
Ol' Slewfoot
Old, Old House
Ollin Arageed
On The Road Again
One Kind Favor
One More Saturday Night
Only A Fool
Operator
Overseas Stomp (Lindbergh Hop)
Pain In My Heart
Parchman Farm
Passenger
Peggy Sue
Peggy-O
Phil & Ned
Phil's Earthquake Space
Picasso Moon
Playin' Reprise
X-Playing in the Band
Pollution
Prisoner Blues
Proud Mary
Queen Jane Approximately
Railroading On The Great Divide
Rain
Rainy Day Women # 12 & 35
X-Ramble On Rose
Reuben And Cerise
Revolution
Revolutionary Hamstrung Blues
Riot In Cell Block Number Nine
Ripple
X-Road Runner (I'm a)
Roberta
Rockin' Pneumonia and Boogie Woogie Flu
Rollin' and Tumblin'
Rosa Lee McFall
X-Row Jimmy
Run, Rudolph, Run
Sage And Spirit
Saint of Circumstance
Saint Stephen
Salt Lake City
Samba in the Rain
Samson and Delilah
Sawmill
Say Boss Man
X-Scarlet Begonias
Searchin'
Seasons Of My Heart
Sgt Pepper's Band
X-Shakedown Street
She Belongs To Me
Shelter From The Storm
She's Mine
Ship Of Fools
Sick and Tired
Sick and Tired
Sidewalks Of New York
Silver Threads And Golden Needles
Simple Twist Of Fate
Sing Me Back Home
Sittin' On Top Of The World
X-Slipknot
Slow Train
Smokestack Lightning
So Many Roads
So Sad (To Watch Good Love Go Bad)
So What
Space Funk
Spanish Jam
Spoonful
Stagger Lee
Stander On The Mountain
Standing On The Corner
X-Standing on the Moon
Stealin'
X-Stella Blue
Stir It Up
Stronger Than Dirt
X-Sugar Magnolia
X-Sugaree
Sunrise
X-Sunshine Daydream
Supplication
Swing Low Sweet Chariot
Take It All Off
Take Me To The River
X-Tangled Up In Blue
Tastebud
Tell Mama
X-Tennessee Jed
X-Terrapin Station
That Would Be Something
That'll Be The Day
That's All Right, Mama
The Ballad of Frankie Lee and Judas Priest
The Boxer
The Eleven
The Flood
The Frozen Logger
The Golden Road (To Unlimited Devotion)
The Last Time
The Main Ten
The Mighty Quinn (Quinn The Eskimo)
X-The Music Never Stopped
The One You Love
The Only Time Is Now
The Other One
The Promised Land
The Race Is On
The Raven Space
The Same Thing
The Seven
The Stranger (Two Souls in Communion)
The Things I Used To Do
The Times They Are A Changing
The Valley Road
The Weight
The Wheel
The Wicked Messenger
There Is Something On Your Mind
X-They Love Each Other
Throwing Stones
Till The Morning Comes
To Lay Me Down
Tomorrow Is A Long Time
Tomorrow Is Forever
Tomorrow Never Knows
X-Tons Of Steel
Touch Of Grey
Truckin'
Turn On Your Love Light
Twist And Shout
U.S. Blues
Unbroken Chain
Uncle John's Band
Uncle Sam's Blues
X-Victim or the Crime
X-Viola Lee Blues
Visions of Johanna
Wabash Cannonball
Wake Up Little Susie
Walk Down The Street
Walkin' Blues
Walking The Dog
Wang Dang Doodle
Warriors Of The Sun
Watching the River Flow
Wave That Flag
Wave To The Wind
Way to go Home
We Can Run
Weather Report I
Weather Report Suite Part II: Let it Grow
Weather Report Suite Prelude
Werewolves of London
West L.A. Fadeaway
X-Wharf Rat
What's Going On
X-When I Paint My Masterpiece
When Push Comes to Shove
Who Do You Love
Who's Loving You Tonight
Why Don't We Do It In The Road
Will The Circle Be Unbroken
Willie And The Hand Jive
Wo Wow Hey Hey
You Ain't Woman Enough
You Don't Have To Ask
You Don't Love Me
You Win Again
Your Love At Home

To see photos of the birdhouses created already and read the descriptions of the art they contain, please click the "more info" button beneath this blog entry. Thank you for checking out my work today!!
July 18th, 2013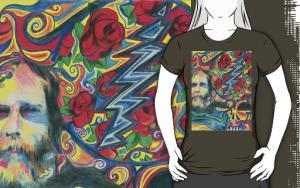 Many works of my art are now available on clothing, including tshirts (up to XXXL), Hoodies (both zip up and pullover), Long sleeves, V necks, Baseball shirts, girly cuts, infants and kids sizes, and even organic cotton options. All clothing is American Apparel brand, comfy, soft, durable, with professional screen prints that last the test of time. There are LOTS of colors to choose from, and many of the prints are available in different palettes, which were created just for clothing only. Click on the "learn more" link to go directly to my apparel site at Redbubble.com .
July 4th, 2013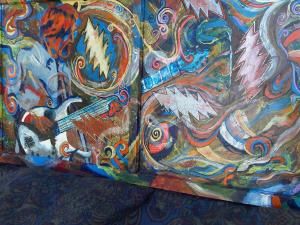 Look for me selling original paintings and some "Jerome 5" Limited Edition prints (signed and numbered). This is your chance to buy unshippable original pieces, like the glass ones I do. Stay tuned to my art page for eventual photos and feedback of Phish's 3 day run in Saratoga Springs NY. See you at the show. Drive and party responsibly folks.
April 10th, 2013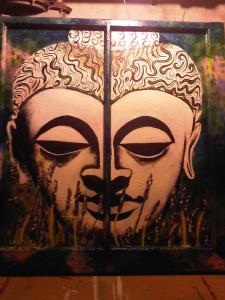 Check out my newest painting, just finished late last night. This is "Lavender Buddha" featuring the Tibetan fashioned Buddha of Compassion with Tennessee Lavender in the foreground. It is acrylic on glass, at one time being an antique window. This window came out of a home just down the street from me. I found a stack of windows near a construction dumpster outside a vacant house being remodeled. Most of the windows were literally caked with a dark yellow nicotine stain. Glass and all. Im assuming this was about 20 years worth of cigarette smoke without even ONE window cleaning. I thought the windows might be useless and most likely stink like an ashtray (Ive displayed paintings in bars before and had to throw a few away) but after a bleach scrubbing with some hot water and a brush, they came out quite clean and new.
This piece is 30"X29" and is available for sale. It cannot be shipped, due to cost and fragility. Pickup or meetup can be arranged, and delivery is negotiable depending on your location. $200.00 . PayPal equipped.
April 2nd, 2013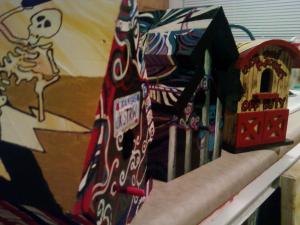 Spring is finally glimpses of itself through the grey clouds and rainy skies! That means its time to start turning gardens, composting your coffee grounds, and thinking about what veggies to grow and torture the kids with at the dinner table all Summer long. Its also a good time to hook one of our feathered freinds outside and add a custom made Grateful Dead Birdhouse to your garden or patio.
Each custom made birdhouse is a testimony to a specific Grateful Dead Song. I study the song content via my GD Lyrical Bible "The Annotated Grateful Dead Lyric Book" , and illustrate each song lyrically on a 9"X9" lightweight Pinewood Birdhouse. I use several different style houses, purchased from a craft store. Each birdhouse, when completed, is treated with Spar Urethane for UV and Weather Protection. This makes the houses fully functional for outdoor use, but many people have chosen to keep them indoors as a display item given their personal value. Each BH is signed and numbered. No songs are recreated. For this, we can all be Grateful that The Dead wrote and covered such an extensive song catalog! There are literally thousands of songs to do!
How do you get a Birdhouse for yourself? Its easy. Just visit my Grateful Dead Birdhouse photo album on facebook . I have attached the URL to this blog update. Not on facebook? Its ok. Just send me an email with your requests and we can discuss YOUR special song. Let me give you two lists right now though. The first is a list of GDBH's that have been completed already The second is a list of songs that have been reserved by people Nationwide by giving a modest deposit. These songs are now also unavailable. See songs that you would like and feel like "all the good ones are taken"? Have no fear. There are more songs than you think to choose from. Simply Google (or Bing) "Complete list of performed Grateful Dead Songs" and you soon see an alphebetized list of songs that The Dead performed in their 30 year reign. Any of these songs can be illustrated. Any cover song, any instrumental jam. Anything. It can be done.
So here are the lists:
Grateful Dead Birdhouse #
1) Cold Rain & Snow 8)Crazy Fingers
2) Jack Straw 9) Sugaree
3) Little Red Rooster 10) Tangled up in Blue
4) Row Jimmy 11) Friend of the Devil
5)Viola Lee Blues 12) Sugar Magnolia
6) Franklin's tower 13) Tons of Steel
7) Brown Eyed Women 14) The Monkey & the Engineer
8) Crazy Fingers
9) Sugaree
10) tangled up in Blue
11) Friend of the Devil
12) Sugar magnolia
13) Tons of Steel
14 The Monkey and the Engineer
Heres a list of Birdhouses in production NOW and reserved:
Box of Rain
Scarlet Begonias
Tennessee Jed
Dire Wolf
Slipknot
China Cat Sunflower
Estimated Prophet
Playin in the Band
Bird Song (Cant believe it took so long for that one to get snatched up!)

PRICING? Very important, I know. As with much of my art, I try to price these on my $20.00/hr payrate. This usually means, i end up working too long for my wages. But I really try to keep these affordable. Most of them come to around $100.00. A birdhouse with less art and detail like "Cold Rain & Snow" (my very first one) was less, around $80.00. But by the time I got to the next one (Jack Straw), I was pouring much more detail into them and this one came upwards of $130.00. I can work with your budget. Just express your concerns with me.
If you are NOT on facebook, I can be contacted at ArtYouGlad@yahoo.com .
February 22nd, 2013
Its still in negotiations, but I will most likely be getting involved somehow this Summer with Allegheny Mountain Music Festival. Details to come. For now, check out the website. Good things coming!!
February 9th, 2013
"Shamrock Shakedown" is a design that utilizes our dancin' friend featured on the cover art of The Grateful Dead's "Shakedown Street" album from the 70's. As any Deadhead can tell ya, we LOVE any excuse to wear a Stealie. So Ive decided to create a Stealie for St Patrick's Day. It is available on prints and greeting cards here on my website. Lots of sizes available. Even cool canvas and metal prints.
This design is even available on apparel! But not through this site (Fine Art America). I have provided a web link to redbubble.com where the apparel is available on adult sizes of T-shirts, V-necks, Baseball Tees, Gurlie Cut shirts, Long Sleeves, and two kinds of Hoodies (both zip up and pull over). Infant, toddler and kids sizes are also available. The print is available in many colors, but it looks more appropriate and festive on Green. Yes, I said Festive. ;)
The best part of purchasing apparel is that a portion of proceeds goes to a great charity called "Grateful Heads" which makes and distributes tie dye hats and bandannas for kids and adults who have lost their hair to chemotherapy treatment.

Here is the link to purchase "Shamrock Shakedown" on Prints and Greeting Cards: http://3-kevin-cooper.artistwebsites.com/featured/shamrock-shakedown-kevin-j-cooper-artwork.html

Here is the link to purchase it on apparel and help support Grateful Heads: http://www.redbubble.com/people/dharmadog215/works/9956656-shamrock-shakedown
February 5th, 2013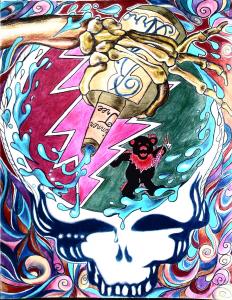 February 1st has brought me an unforseen relocation. I'm taking a retreat, going back to basics, building from square one, or as Mark Sandman once said, "Starting over from scratch". Back in November, my art studio as some of you may know, was looted, destroyed and ransacked. Ove 50 works of art are gone. All my materials, gone. Lighting, paint, furniture, tools, even the art that my little daughter has made me over the years is all gone. It was quite a blow. But there has been plenty of time to greive. I decided my next course of action would be to take my photos that Ive collected over the years and turn them into prints. Thats what led to this fine site.
But now that Im in a space that I can paint, Im going to be getting back to the messy stuff soon enough. Paint and materials will be bought a little at a time. So for now, Im still hitting the Vellum paper hard, squeezing out Grateful Dead art that suits the Season, turning it into prints, clothing (www.redbubble.com/people/dharmadog215) and stickers. But I needed to take a break from that for one project that was a commission idea for a nice Mama up North in Rochester NY. She requested a "Broken Arrow" theme Grateful Dead piece to commemorate a soon to be marriage with her Love. Its their favorite song, and its been a project that was on my mind anyway. The concept almost made it as a Valentine's card design. This piece will not become prints or clothing. So Im glad I have a photo of the original to share with you all.
You cant really tell from the photo. but I used metallic pencils and ink in parts of it, and it makes it really shimmer. I just received confirmation that she loves it. I hope all of you do as well.
In other news, I will be participating in some First Friday events int he coming couple of months, so stay tuned to see where I will be sellign some art, and which pieces it will be. There will be some music events as well. Since we're on the subject, its time you know that Summer is closer than ya think. Snow on the ground? It will be ggone in NO TIME. Its time to pick what Summer Festivals you are hitting. We are getting our calendars together now for Spring>Fall travels. Stay tuned!